Hot Pepper Plants
Have you ever purchased pepper seeds from a source in the fall, plant them early spring, wait impatiently for a couple of months just to see your first flowers? Then two more months later, you finally find out that your ghost peppers, or your Carolina Reapers you waited all this time for turn out to be common habaneros! Well, I am doing something different from the rest, just for YOU! After you waited most of the year for something you never get, don't you almost feel like these people have cheated you out of all that time that nobody can give you back? Usually, by this time, your season is shot to try again.
This is why we are selling seriously hot pepper plants that you can purchase with peppers already on them. These plants are in 3 gallon containers and have a 32 inch tall, round, "tomato cage" already installed. The plants shown below will be the average size of the plants available for sale. You can now come out to the nursery and pick out a plant that you can see for yourself, IS what it is supposed to be. If you are the type who makes a big deal about the genetics of your plants, or is picky about the actual pod shapes that are produced by your plants, you can look through, and find the plant that is exactly what you are looking for. Why leave anything to chance? I will be growing these all year, including the winter. You can buy these plants later in the season when you find out you don't have what you are supposed to have, but you can also buy these at the beginning of spring and already have full sized plants from the start. No more starting seeds inside or over wintering plants. All you need to do is come out to the nursery and pick out your garden for the year. Keep in mind that during the winter, pod production is a little slim, so there may not be as many plants with pods on them, but you can be assured that no plant goes into this section for sale until I have personally seen what the pods look like. Even though I am using my own seeds that come from isolated plants, every once in a while I will get a plant that doesn't produce pods that I'm happy with. It is hard for me to throw away plants, so many times, when a customer comes out and buys quite a few pepper plants, I will give these away as a bonus.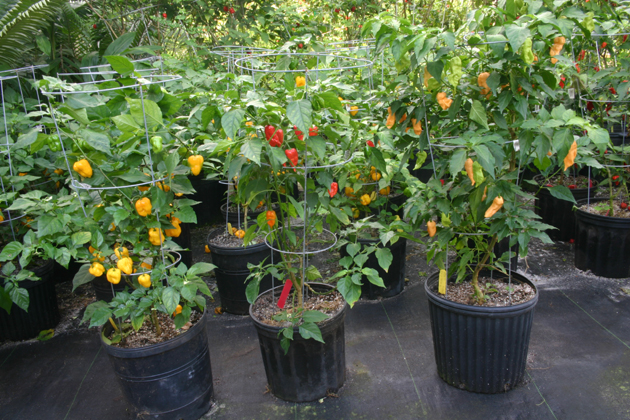 These plants are $30 each.
Available Now
Pictured from left: Yellow 7 pod, Naga Morich, (dwarf ghost) and Peach Bhut Jolokia. (peach ghost) Also available red Bhut Jolokia, (ghost pepper) Red Brain Strain (seeds from Cappy himself), and now, the new IR 1s. (since the genetics of the original Carolina Reaper seeds were so diverse, I took seeds from my very best plants and have used these to produce the first new generation of "Improved Reapers")
For those of you who can't get plants from me locally, I am certified to send plants to every state but California. Even though I am able to send plants to Arizona and Hawaii, these two states require phytosanitary certificates that can cost a customer as much as $70 per order, so for this reason, I'm not shipping pepper plants to these two states either.
Here, I am selling one gallon container pepper plants. They are much larger than the little 2 inch plants you get from dealers for $6 to $10 each. These have been tipped back a few times to help them branch and all of them should at least be in the flowering stage. The picture below shows an average sized plant. At the time I put this page up, many of these plants have pods on them already, even some with color. I have already shipped many of these plants and have already found out that the pods usually fall off during shipping, so I don't want to advertise that you would get a plant with pods on them. If you want to pick these up, then you have a good chance of buying plants with pods. I am also growing these all year, so this means anyone living in the 47 states I can ship to, can purchase flowering plants right away, which is a great help for anyone with a short growing season up north. I am shipping these in the containers and soil so that they get to where they need to go, in good shape. This can get expensive depending on how far they need to go, so inquire about shipping.
These plants are in 1 gallon containers and cost $15 each. We have Yellow 7 Pods and our new improved Carolina Reaper plants available now.

We are interested to hear from you if you want us to grow certain types of pepper plants for you ahead of time, especially for spring. The fresh peppers page has a list of what we are growing from our own trusted seeds.
"Seriously Hot Peppers" is just a part of my nursery business, The Cycad Jungle. We have been a certified nursery since 1986. Certification # 04722650
The Cycad Jungle-Tom Broome
PO Box 93624 Lakeland Florida 33804-3624
Phone: 863-984-2739
We do not have a fax